Awarded Padmashri
Awarded Rashtriya Kalidas Samman
Awarded Yash Bharti Samman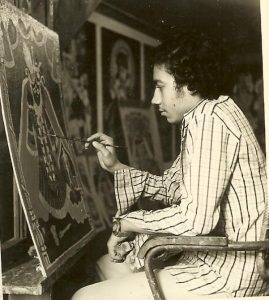 Krishn Kanhai, born on 21 August 1961, is an Indian artist and painter, specialist in portrait , realistic, contemporary paintings and on lord Radha-Krishna theme paintings.
Kanhai Art and master of traditional method of painting using gold leaves and gem stones.He was born in Vrindavan, in Mathura district in the Indian state of Uttar Pradesh. Learning the art from his father, Padmashri Shri Kanhai Chitrakar.
Krishn Kanhai, second generation of the Kanhai Art, was awarded Padmashri, (Highest civilian award in the Republic of India), presented to him by the President of India. Krishn Kanhai is described as an artist with the Midas touch. He is a master of the traditional gold paintings, portraits as well as contemporary. While he has not remained confined only to the traditional but has also contributed to it significantly by introducing several techniques that make the canvas aesthetically appealing and spiritually rich. He started making painting on folk themes and established his own style and school.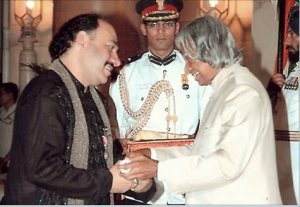 Following the footsteps of his father Padmashri Kanhai Chitrakar, who was a renowned artist as well, he has also mastered the art of traditional theme of lord Krishna and Radha for his painting. The subjects of all his work are Lord Krishna and Radha.
Krishn Kanhai began his journey as a painter at an early age of 15 years. He has paintedthousands of portrayals based on the perishing theme of Radha-Krishna and their tales, making the use of beautiful postures as well as pure gold and various precious gems.
He set off making paintings on public subjects and evolved the genre of Yamuna Ghat, bringing the rural aspects of Braj to lifein which has been highly glorified and admired by media and experts. In his paintings, Krishn Kanhai has expressively engraved the Indian rural surroundings.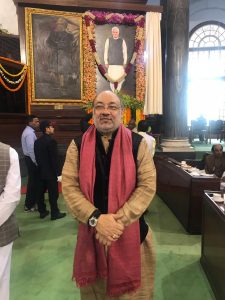 Krishn Kanhai made a life size portrait in 2019 of our Bharatratna late Prime Minister Shri Atal Bihari Vajpayee for central hall, Parliament, inaugurated by the president of India Hon'ble Shri Ramnath Kovind in the Presence of our Prime Minister Shri Narendra Modi & others National leaders. The president of the India congratulated Krishn Kanhai by giving you a shawl as a symbol of best wishes from the government of India.
He received his education for portraits in fine arts from his Father Shri Kanhai and finished his first portrait at a young age of 20 years, after which hepainted portraits of various national as well as international high profile clients, the list of which includes the 42nd President of America Bill Clinton, former Indian Prime Ministers Jawaharlal Nehru, Chaudhary Charan Singh, Atal Bihari Vajpayee, former Deputy Prime Minister Lal Krishna Advani, former Chief Minister of Uttar Pradesh Mulayam Singh Yadav, Akhilesh Yadav, current Chief Minister of Uttar Pradesh Yogi Adityanath, actress and dream girl Hema Malini and country's eminent industrialist Aditya Birla and his wife Rajashree Birla among others.
His popularity in the field of portrait paintings increased so much that he also painted portraits of Bill Clinton and Hillary Clinton on special request of former Indian Prime Minister Shri Atal Bihari Vajpayee, which he presented to the Clinton couple during his visit to America in 2000.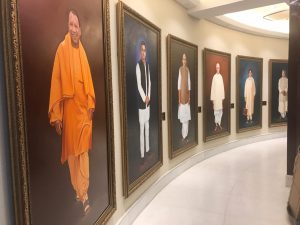 In 2016 on request of the Uttar Pradesh government, he also painted life size realistic portraits of the 22 current as well as former Chief Ministers of UP, along with which you also painted portraits of the 19 current as well as former speakers at the UP Assembly and one life size portrait of Mahatma Gandhi.
This was probably the first time in Indian history that an artist has painted portraits of so many great personalities, including two Prime Ministers of India. These portraits adorn the portrait gallery inside UP Legislative Assembly.
In 2004, the government of India honored him with the Padma Shri award for his contribution to the art of painting. The government of Madhya Pradesh invited him in the National Kalidas Award 2009-10 and in 2015, the government of Uttar Pradesh honored him with Yash Bharti Award. He has also been honored by various other organizations in Uttar Pradesh and across India.
He experimented and painted various fusion paintings as well as modern paintings, which is in demand at the present time. It is very rare to find an artist who is versatile in traditional, fusion, portrayal, realistic and modern forms of art. He also painted clothes for National Institute of Technology, which were awarded as Best Costume.
His paintings were praised so much that in 2004, a student at Bhimrao Ambedkar University, Agra named Sangeeta Gupta did a PHD on his father Shri Kanhai also a student of Jiwaji University, Gwalior Named Mohammad wasim did a PHD on him and his journey as a painter.
He preserved the legacy of his art and established Kanhai Art Gallery in Vrindavan.

indian painter famous, indian painter name list, list of indian artist, krishna Painting, Krishna Kanhai painting, famous artist, Padma shri Artist, vrindavan painting, contemporary krishna, contemporary krishna painting, famous krishna painting, radha krishna paintings, krishn kanhai art, kanhai paintings, painter of portraits, famous painter of portraits, gold painting, Indian famous artist